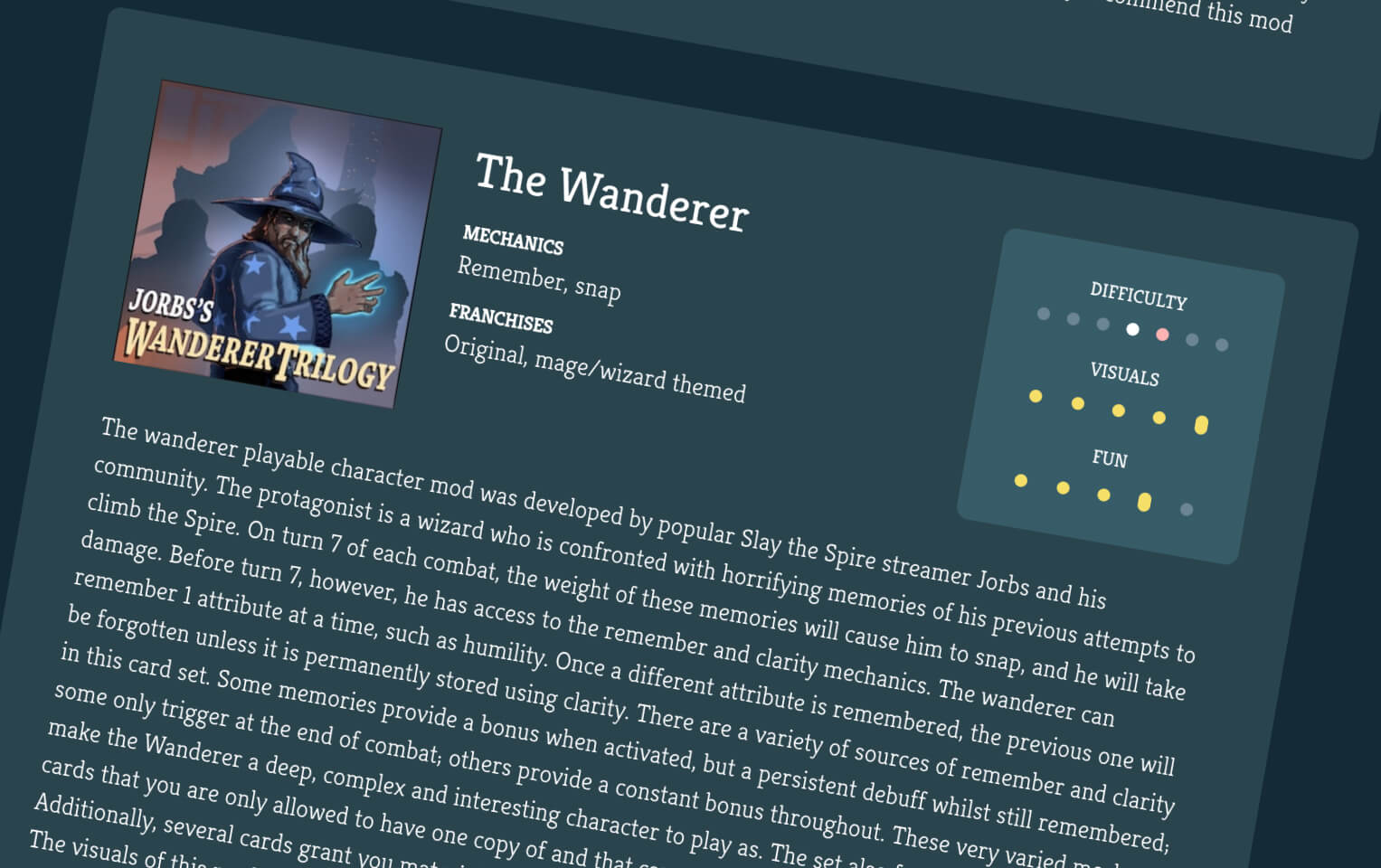 Introducing, Curated Mods ⚙️
Hello there, Spire Spy-ers!
As the observant of you may have already noticed, we have added a mods section to the website. Here you can find a curated set of mods that has been played by Maybe Later Games and earned our seal of approval.
Why did we do this?
A lot of people, myself included, might have been unaware of the enormous modding community that exists for Slay the Spire. Others might be worried about installing mods and some may just not know how. So I took it on myself to share with you some of the excellent mods that I've been playing recently!
Interested?
To find the download link for any of the mods, simply click on the review panel.
Each mod review focuses on three specific areas: difficulty, visuals, and fun.
Visuals and fun are the easiest to measure and have been given a rating out of five stars. Visuals can include character models, card art, and even custom sounds or particles that come with the mod.
Fun is obviously very subjective but generally refers to how interesting and varied I think the mechanics are.
Finally, difficulty is the measure of how hard or easy the game is in comparison to the base characters. 3 red dots is an extremely difficult character mod, and one green dot is a slightly easier mod than the default playing experience.
Not sure how to play with mods?
It's simple!
Subscribe to the following 3 prerequisites: Mod the Spire, BaseMod and StSLib
Then in your Steam library, go to Slay the Spire, press play, and choose play with mods. Enable the three mods above and any combination of additional mods on top! (Note that playing with multiple mods simultaneously can cause issues sometimes, but most developers work on making their mods compatible with others.
Finally... enjoy!
Once again, thank you for all your support!
As always, if you have any suggestions or feedback just hola! (By that, we mean send us a comment on the form at the bottom of the page. Or join our discord for a chat!)